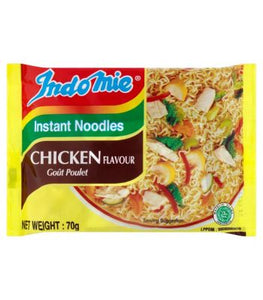 Indomie Nigeria Chicken Noodles 70g
This is a stable food in many cultures. They are made from unleavened dough which is stretched or rolled flat and cut into one of a variety of shapes. 
Noodles are usually cooked in boiling water, sometimes with cooking oil or salt added. They are
 pan-fried or deep-fried and served with an accompanying sauce or in a soup. 
Chicken flavor.