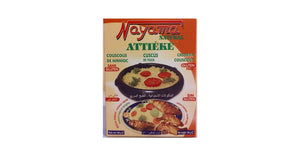 Nayama Natural Attieke (Couscous) 300g
Nayama Attieke is a quick all natural side dish made from cassava that is a part of the cuisine of Côte d'Ivoire, Senegal, Togo and Benin in Africa. Attieke is made from fermented cassava pulp that has been grated or granulated.
Preparation and use
Scoop up 2 cups of attieke powder and an equal amount of water. Mix the attieke and the water in a bowl. Stir thoroughly, and then put the mix in a microwave for 2 to 3 minutes. Remove, stir and turn it over with a wooden spoon or spatula.Put back in the microwave for another minute. Your attieke is ready is ready to be served.  Attieke can be eaten warm or cold, and goes well with a fish or meat tomato stew.